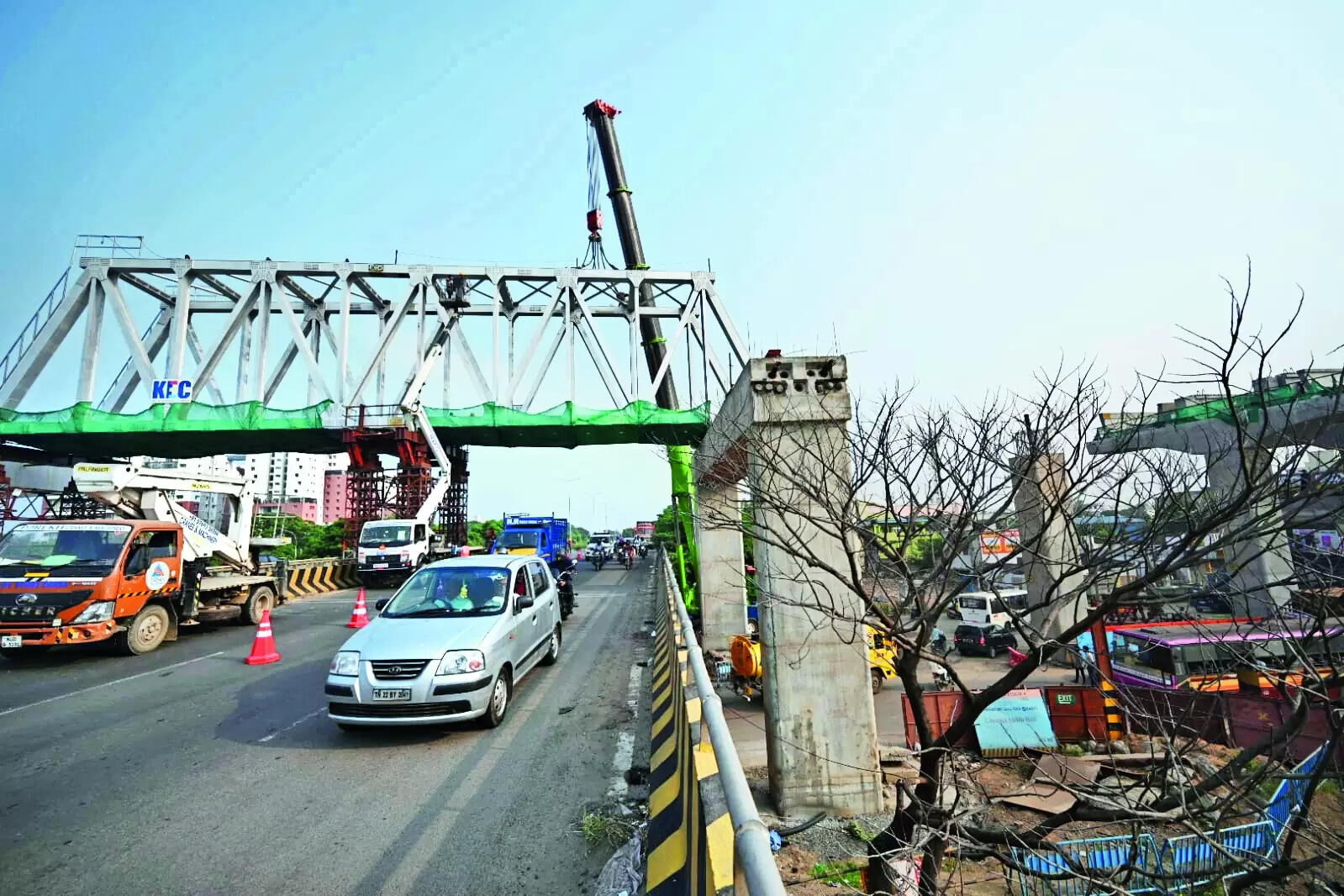 CHENNAI: When phase 2 of metro rail opens, driverless trains will pass over 63 steel bridges that will be installed in different locations above buildings and flyovers. Long spans of steel girders will be installed in locations where vertical clearance is limited and concrete viaducts cannot be built with pillars due to the presence of structures, roads, or restricted areas below.
Recently, workers installed a 40-metre-long steel girder bridge weighing 222 tonnes above Chennai bypass flyovers on Mount-Poonamallee High Road, near Porur, as part of the phase-2 construction from Porur to Poonamallee Bypass. The 116.1km phase-2 will be open to the public in phases between 2025 and 2028.
A metrorail official said the 63 metal girders will be installed in locations including Chennai Bypass, Thelliyaragaram, Poonamallee junction, Porur Junction, Valasaravakkam, Adambakkam, Ramapuram junction, Kathipara, Kalliamman Koil Street, Butt Road, Echankadu, Perumbakkam, Medavakkam, Retteri, MMBT, ICF crossing, and national highway crossing in Koyambedu.
"Steel girders have been planned for the same span and load as concrete girders in locations wherever vertical height clearance is required. A steel girder requires less depth than a concrete girder, which can be helpful when constrained by vertical clearance requirements. Both steel and concrete girders are equally safe," said L Girirajan, CMRL spokesperson.
The metrorail official added that in some cases, installation of long spans is possible with steel bridges, which can avoid the need for costly environmental impact studies. "Longer spans also reduce the number of piers necessary for a crossing, minimising the number of elements affecting the aesthetics," he said.
In phase 1, a steel girder was installed over the Guindy Railway crossing. Officials said while steel girders could be set up faster, the installation can be carried out only during night hours as the work may require diversion of traffic if executed during the day. At Porur, the installation of the girder was carried out from night to early morning hours when there was relatively less traffic on the road and the flyover.
The installation of steel bridges also requires heavy lifting equipment like 500-metric-tonne cranes and continuous monitoring of the construction.