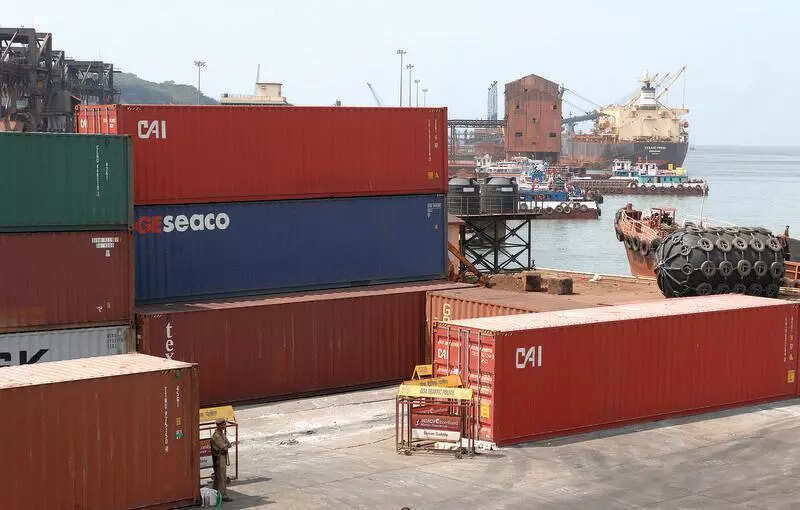 MUMBAI: Goa-based shipbuilder Chowgule and Company Pvt Ltd will start constructing ships from its newly acquired yard at Mangalore with a maiden order for four firm and four optional low emission short sea dry cargo vessels of 8,500 tons jointly placed by Boomsma Shipping and Leonhardt & Blumberg.
The companies did not disclose the value of the shipbuilding contract, which is seen as a vote of confidence by European clients in the ability of Indian yards to build energy efficient ships.
In 2021, AtoB@C Shipping AB, the Swedish unit of Finland's ESL Shipping Ltd, had ordered a series of seven energy-efficient, electric hybrid, multipurpose cargo vessels at Chowgule and Company for about 70 million Euros ($82 million).
In 2022, AtoB@C Shipping said it has exercised the option to build five additional electric hybrid vessels at the Indian yard.
In 2022, Chowgule and Company acquired the Mangalore shipyard of bankrupt shipbuilder Bharati Defence and Infrastructure Ltd for some Rs75 crore in a private deal under India's bankruptcy law.
The Mangalore yard – the fourth from the Chowgule Group – will start production spring 2024 once the yard facility has been modernized.
"Chowgule Shipbuilding is currently investing heavily to modernize the facility and to prepare it for efficient production of vessels from 7,000 tons to 25,000 tons," Arjun Chowgule, Executive Director, Chowgule and Company, told ET Infra.
In close cooperation with renowned design company Conoship International, Boomsma Shipping developed a next generation, low-emission short sea dry cargo vessel type of 8,500 tons. At an early stage of the project development, Hamburg based Leonhardt & Blumberg Shipmanagement became a project partner.
Known for their strong position in the container vessel market and the product tanker market, Leonhardt & Blumberg has decided to diversify into the short sea dry cargo vessel market.
The Boomsma group was selected as strategic partner on the basis of its long standing in the market, its knowhow, excellent track record and on the basis of the two companies sharing the same visions and values for the future.
JR Shipbrokers & Consultants (part of JR Shipping Group), with whom both Boomsma and Leonhardt & Blumberg work closely, acted as matchmaker and newbuilding broker.
The ships are designed to be extremely efficient in terms of cargo carrying capacity per energy unit with 8,500-ton deadweight, 13,900 cubic meter single hold – open top – complete tween deck.
The ships are optimized diesel electric propulsion ready for life-time expansion and future fuels. They need as much as 60 percent less propulsion energy compared to existing tonnage.
The ships are ready for innovations such as wind assisted propulsion, carbon capture and emission free operation on batteries to lower emissions even further.
The ships will have 50-90 percent lower CO₂ emissions.
From autumn 2025 onwards the vessels will be delivered either to Boomsma Shipping or Leonhardt & Blumberg. Once in service, the vessels will all be commercially operated in a pool by NewTide Chartering BV in Rotterdam, part of the Boomsma group.
"Climate change can no longer be ignored and 'change of course' is absolutely necessary," said Johan Boomsma of Boomsma Shipping.
"Regulations to achieve a greener shipping industry are coming into force. For the short term, our focus is on fuel consumption reduction. Consequently, emissions are lowered," Boomsma added.
Some two years ago, Leonhardt & Blumberg decided to diversify the group's activities while maintaining strongly positioned in its home market of container feeder vessels.
Two target markets were identified for diversification: mid-size product tankers and short sea dry cargo vessels. The product tankers came first through acquisition of suitable second-hand vessels.
"But it was clear that the best approach for the short sea dry cargo vessel market would be to do a new building program," said Torben Koelln of Leonhardt & Blumberg.
"The short sea shipping space is where most of the innovation takes place in order to make vessels more energy efficient and to achieve much less emissions of CO₂. While entering this market, our group aimed to be an early adopter of these new technologies and therefore wanted to invest in a cutting-edge vessel type. Furthermore, it was important to us that the vessels would be built at a comfort offering, experienced shipyard and we are therefore very happy with the partnership with Chowgule Shipbuilding," Koelln said.
"For us it is a great advantage that we have been able to team up with Boomsma Shipping as they have a lot of expertise and offer us the access to their cargo clients through their commercial management arm NewTide Chartering," Koelln added.
The Chowgule Group has built up trust amongst owners and managers of short sea dry cargo vessels. During the last twenty years, the shipyard has built and delivered over 50 ships for owners from The Netherlands, Germany, Norway, Sweden, Finland and UK.
The group's two shipyards in Goa, where all the vessels have been built, are fully booked until 2027. These yards can build vessels up to 7,000 tons of deadweight.
"Our Group has committed to invest in shipbuilding and has deployed resources to acquire new shipyards that would increase the size of vessels we build and the number of vessels we deliver. Earlier this year we were able to acquire an existing yard facility in Mangaluru (Karnataka)," Arjun Chowgule said.
Family owned and run Boomsma Shipping, based in the city of Sneek in The Netherlands, owns and operates a fleet of 10 modern short sea dry cargo vessels in the range up to 10,000-ton deadweight. The vessels are being operated in the full Atlantic basin including the Mediterranean, Black Sea and Baltic.
Aside, all ship management services, the group also provides for its own commercial management of the vessels. Rotterdam-based NewTide Chartering is the commercial management and chartering arm of the group.
Meeting the transportation demand of its growing portfolio of cargo clients and at the same time wanting to be an early mover of the next generation of low-emission short sea dry cargo vessels, resulted in the development of the new 8,500 toners, Boomsma said.
Building on its strong position in the market of container feeder vessels ranging from 1,000 TEU's to 3,600 TEU's, Leonhardt & Blumberg has decided to diversify its activities and invested in the segment of mid-size product tankers.
The group runs a fleet of 37 vessels for which all management services are conducted in house. The next development step is to further diversify the group's activities by becoming active in the promising market of short sea dry cargo vessels by teaming up with Dutch shipowner Boomsma Shipping and jointly ordering the series of new 8,500 toners.
Chowgule Shipbuilding has constructed over 52 vessels of up to 7,000-ton deadweight from its two sites at Loutulim and Rassaim in Goa.
"The two-yard sites are now fully booked for years to come. The clear demand from a growing group of clients and the ambition to develop further and be able to build larger units as well, resulted in the group's investment in a third shipyard in Goa and a fourth shipyard site in nearby Mangalore," Arjun Chowgule added.