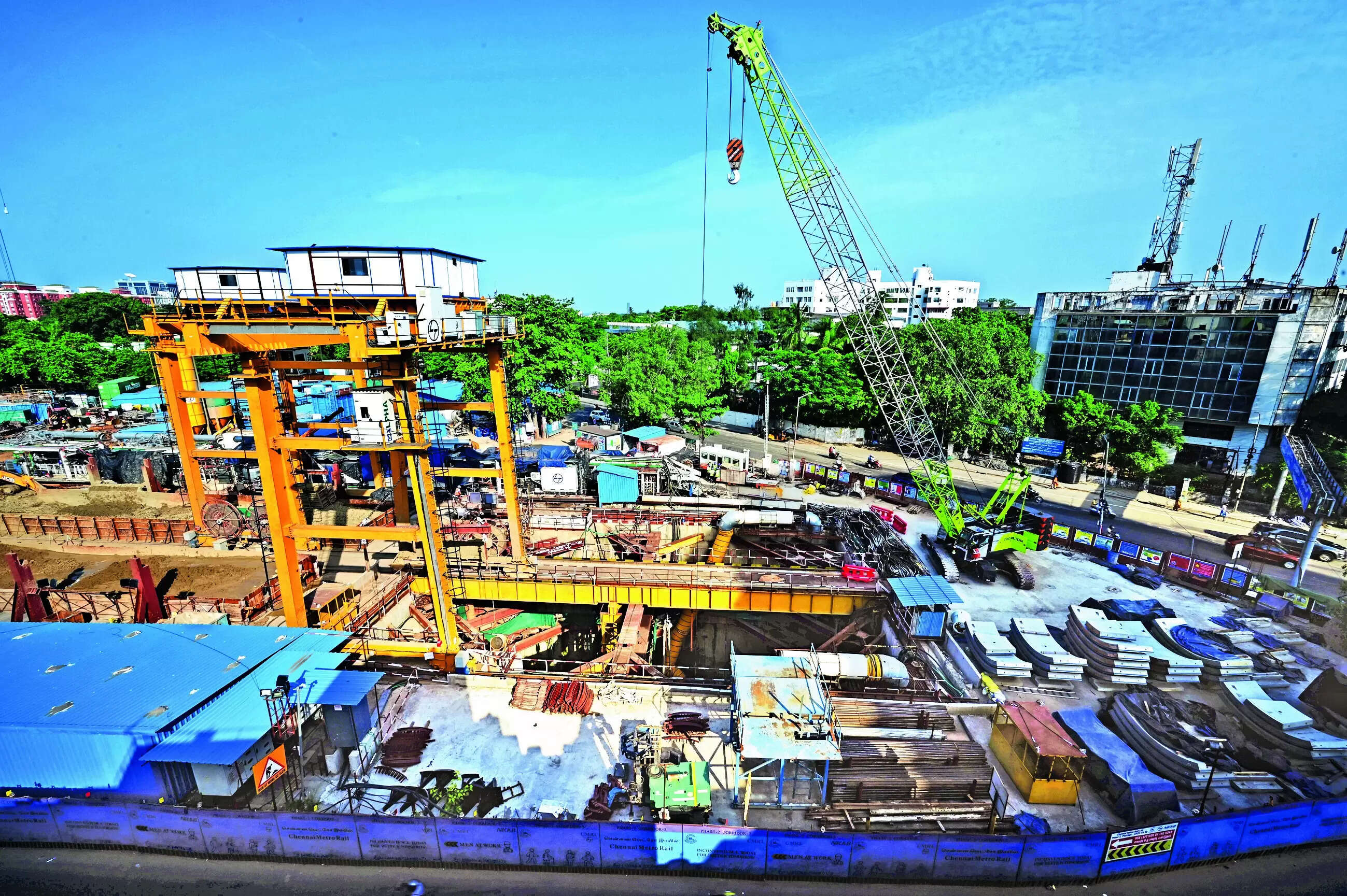 CHENNAI: Come September, work under the Adyar near Greenways Road metro station will begin. A machine will go 20 meters under the river to begin boring a 400-metre-long tunnel.
The tunnel boring machine (TBM), named Kaveri, began tunnelling under the RA Puram corporation playground in February and is currently 120 metres from the river.
When complete, the tunnel between Greenways Road metro station and the one at Adyar junction will stretch for 1.2 km.
An engineer at the site said the machine is boring at a speed of 1.5 metres a day, given that there are many structures above on the road including a petrol bunk and a college and operating the machine at a higher speed could cause cracks and damage to them. From Greenways Road metro station, the TBM will go under Durgabai Deshmukh Road, crossing Adyar river near Thiru.Vi.Ka Bridge before reaching the station to be built at Adyar junction.
"When the TBM enters the riverbed, its speed may slow down even further to 1 metre a day," the engineer said.
Experts said tunnelling under a water body may be challenging.
"Water pressure in the river is taken into account during the planning stage. The tunnel wall will be about 35cm thick. If the pressure under the river is found to be more, then the thickness may be increased to 40cm or 45cm. The tunnel boring machines at work also waterproof or seal the gaps between two segments and rings in a tunnel to prevent water seepage," R Ramanathan, former official of Chennai Metro Rail Limited (CMRL) had said in an earlier interaction.
CMRL project director T Archunan had said the crown, or the top of the tunnel, will be 7m below the riverbed.
The stretch between the Greenways Road metro station and the one at the Adyar junction is part of the 45.4km corridor-3 from Madhavaram Milk Colony to Siruseri Sipcot.
M A Siddique, managing director of CMRL, had recently said that the 116.1km phase 2 is expected to be thrown open to the public in stages starting from 2025 to 2028.
Apart from the stretch under the Adyar, tunnels will also be built under the Chetpet lake in phase 2. Work is currently underway to get a launching shaft ready at the Chetpet metro station site for deploying the tunnel boring machine, which may be brought to the site in September, officials said.