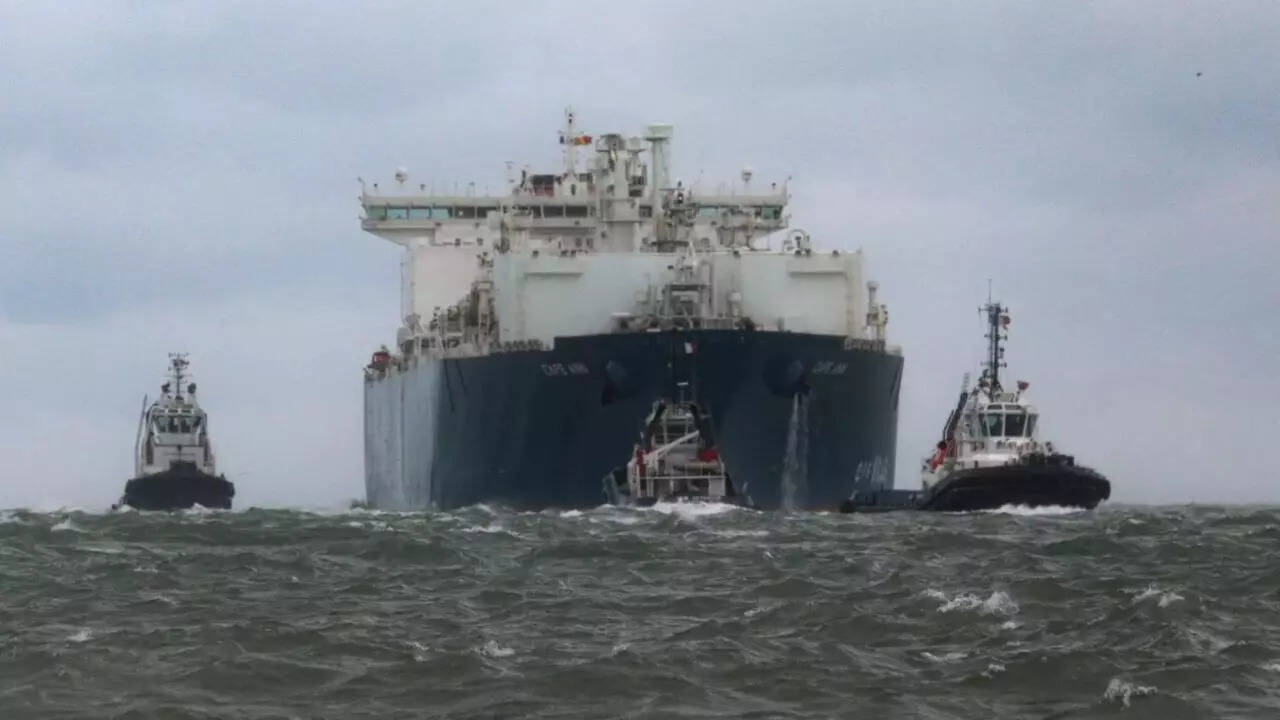 Carbon dioxide emissions from US liquefied natural gas facilities have jumped to 18 million tons per year, up 81% since 2019, adding a volume of greenhouse gas to the atmosphere equivalent to that produced by several big coal plants, according to United States government data.
They could more than double to 45 million tons per year by the end of the decade as new facilities, encouraged by soaring overseas demand for the super-cooled fuel, come online, according to company projections provided to the US Environmental Protection Agency and the Federal Energy Regulatory Commission tallied by Reuters.
The emissions figures and projections, which have not been previously reported, reflect a troublesome tradeoff for the Biden administration, which wants to boost fuel shipments to European allies while also cutting greenhouse gas output at home to fight climate change.
The Biden White House has said US LNG can help Europe reduce its dependence on gas supplies from Russia, which is facing western sanctions over its war in Ukraine. The administration approved five US LNG export licenses to serve the European market following Russia's invasion, having approved none beforehand.
The White House did not return messages seeking comment on the increase in emissions from the LNG sector. The Energy Department, which oversees LNG export permitting, said it is funding several initiatives focused on reducing carbon dioxide emissions from LNG terminals and other sources.
US special climate envoy John Kerry told Reuters last year that greenhouse gas emissions were an inevitable "downside" to increasing LNG exports to European allies.
Carbon dioxide emissions from all seven operating US LNG export facilities totaled 17.6 million tons in 2022, up 81% since 2019 when the sector had 6 facilities, according to EPA data.
By 2028, five projects now under construction are due to come online, producing an additional 27 million tons a year of emissions, according to company projections provided to the EPA and FERC.
That works out to more than 45 million tons per year by the end of the decade or roughly 2.5% of current carbon emissions from the US power industry.
LNG exporters, meanwhile, have shelved plans to use carbon capture and sequestration (CCS) to reduce emissions, according to regulatory filings, casting doubt on the viability of the technology as a large-scale solution to the industry's climate impact.
CO2 emissions from the energy-intensive process of liquefying gas for export mark only one stage in the industry's overall climate impact. Methane leaks during drilling, piping, shipping, and distribution also add to pollution – even before the fuel is used.
A CLEANER FUEL?
The United States became an LNG exporter in 2016 on the back of a domestic natural gas drilling boom, with overseas shipments rising fast.
US LNG exports averaged a record 11.6 billion cubic feet per day during the first half of 2023, up 4% from the first half of last year, with much of those volumes going to Europe, making the United States the world's largest exporter, according to the Energy Information Administration.
Advocates of LNG argue the fuel burns cleaner than coal.
"Countries around the world are looking to replicate the US model," said Robert Fee, vice president of climate and international affairs for LNG exporter Cheniere Energy.
Critics argue that it is unclear whether the US gas export boom to Europe is displacing coal or delaying a transition to renewables like solar and wind.
"We don't really know how much coal is being displaced in these overseas markets," said Alexandra Shaykevich, an analyst at Washington-based Environmental Integrity Project.
CARBON CAPTURE DOUBTS
Three LNG operators – Freeport LNG, Sempra and Venture Global in 2021 and 2022 announced plans to use carbon capture to keep a portion of their greenhouse gases from reaching the atmosphere.
Freeport's CCS project was to start injecting CO2 pollution from its Texas plant into the ground by 2024, according to a 2021 press release. But in an August disclosure to the SEC, its partner in the project, Talos Energy, said, "We have no future development plans related to the project."
Freeport declined to comment on the development and Talos did not return messages.
Sempra last year announced a plan to incorporate a CCS project in its Cameron LNG facility in Louisiana. But the company has said in SEC disclosures that the project needs a commitment from its partners before moving ahead.
Sempra did not respond to requests for comment on the likelihood the project would be built.
Upcoming CCS projects are also in doubt.
NextDecade Corp has said its proposed terminal near Brownsville, Texas, could remove more than 90% of its expected 6.4 million tons per year of carbon emissions. But the company told Reuters the economics are uncertain.
"There must be customers that are willing to support the revenue requirements to cover the cost to finance, build and operate the facility and to provide acceptable returns on invested capital," spokesperson Susan Richardson said.