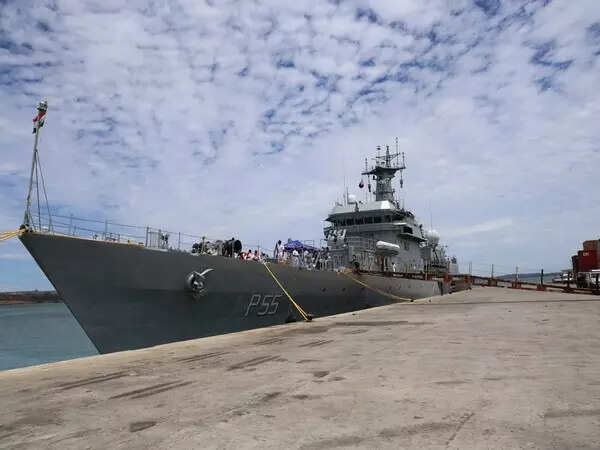 Indian Navy Ship (INS) Sharda is on a visit to Port Antsiranana, Madagascar, from November 17-23 as part of an ongoing operational deployment.
The ship's visit aims to strengthen bridges of friendship and the Indian Navy's sustained efforts towards ensuring maritime security in the region by partnering with regional navies in line with Prime Minister Narendra Modi's vision of Security and Growth for All in the Region (SAGAR), as per an official release.
On arrival, the Commanding Officer of INS Sharda called on the Governor of the Diana region of Madagascar, Arona Daodo Marisiky and the Commander of the Malagasy Naval Base in Antsiranana, Captain Raorasata Dibiharivony Gislain.
The ship will participate in various professional interactions and training exchanges with the Malagasy Navy during the visit, as per the release.
Meanwhile, External Affairs Minister S Jaishankar recently called on his Madagascar counterpart, Yvette Sylla, as part of bilateral meetings on the sidelines of the 78th United Nations General Assembly session in New York City.
During the meeting, EAM Jaishankar discussed a partnership in aspects of food production and the defence sector with the Madagascar Foreign Minister.
Taking to his official handle on X, EAM Jaishankar posted, "A warm meeting with our SAGAR partner, FM of Madagascar, Yvette Sylla today. Discussed development partnership, millets and rice production, digital delivery and defence cooperation."
Madagascar is a SAGAR partner of India. Launched in 2020, Mission SAGAR is a global initiative along the lines of the Sagar doctrine. India launched this mission to provide relief aid to Indian Ocean countries following the COVID-19 pandemic. This initiative covers the Maldives, Mauritius, Madagascar, Comoros, and Seychelles.