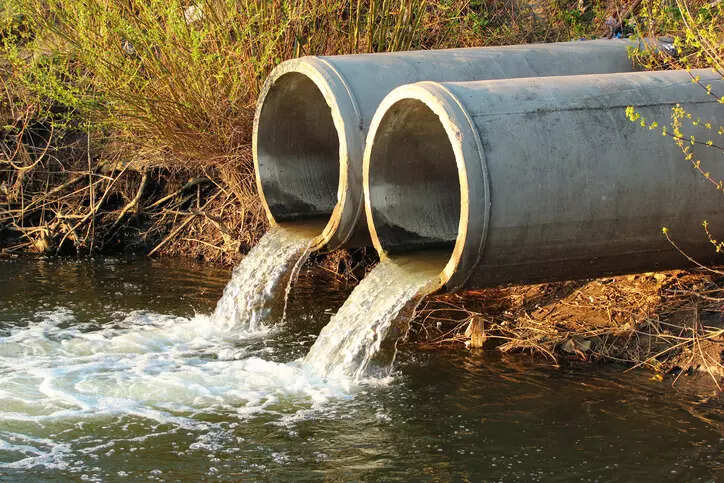 KOLKATA: The world's third-oldest functioning brick sewer line – India's first – in central Kolkata's Moulali, is set to undergo a major revamp. The Kolkata Mucicipal Corporation (KMC) has revived a Rs 145-crore upgrade project for the 147-year-old town outfall brick sewer line, three years after it was first conceptualized, with the aim of mitigating waterlogging woes in major parts of north and central and some parts of south Kolkata.
The plan has been revived following an assurance that funds would be made available from the state's special package for infrastructure development.
The brick sewer is responsible for draining out sewage (dry weather) and storm water, which is carried through three trunk or principal century-old brick sewer lines: APC Roy Road sewer, AJC Bose Road sewer and Lenin Sarani sewer. The lines converge on the town outfall brick sewer, following which a large volume of sewage and storm water is carried through the outfall channel to the Palmerbazar drainage pumping station.
Kolkata's town outfall sewer line started functioning in 1876, two years after the one in Germany's Hamburg (started in 1874) and six years after the world's first had been laid in London in 1870.
In London, chief engineer Joseph Bazalgette had designed and constructed five sewer lines measuring 132km, three north of the river and two to the south, to keep the sewage flowing. The sewer line stopped cross-contamination with water supply lines and brought an end to multiple cholera outbreaks between 1849 and 1854.
Kolkata, the British empire's second biggest city after London, got its first underground brick sewer six years later.
Kolkata: Under the special upgrade project that KMC plans to take up, the 147-year-old town outfall brick sewer line in Moulali will be refurbished so it can function smoothly and drain out storm water from 30 wards, giving 10 lakh citizens some relief from waterlogging.
When the project – the biggest-ever state- or KMC-sponsored project so far – is complete, some of the areas that could benefit include Thanthania, Chittaranjan Avenue, Raja Nabakrishna Street, Rajballavpara, MG Road, Kailash Bose Street, Sukeas Street, SN Banerjee Road, Sealdah, Elliot Road, Linton Street, Bedford Lane, Ripon Street, Lenin Sarani, Alimuddin Street, Ballygunge and Bhowanipore.
After several rounds of survey over the past five years, experts realised the sewer was heavily choked by silt and the civic body needed to take up a desilting project to increase its capacity. KMC engineers told the civic brass that unless the brick sewer was desilted, the civic body could not benefit from the JNNURM sewer upgrade project that was completed in 2009 by desilting three trunk sewers along APC Roy Road, Lenin Sarani and AJC Bose Road.
Mayor Firhad Hakim asked KMC's planning and development officials to prepare a detailed project report, which was sent to the urban development and municipal affairs department to get the funds sanctioned.
A section of officials felt refurbishing the sewer could be challenging. "We need a bypass sewer line to take the load of sewage and storm water before we start working on the town outfall sewer line. Transportation of silt could also be challenging," said an official.