The city authority in Abu Dhabi, United Arab Emirates, has urged demolition contractors and consultants to comply with environmental, health, and safety standards.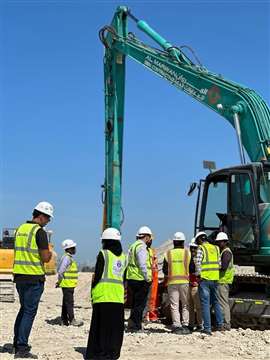 As part of efforts to make the industry safe and more sustainable, Abu Dhabi City Municipality (ADCM) recently implemented a five-day campaign across the city designed to educate those operating in the demolition and C&D waste sector.
The municipality's own inspectors visited sites and company offices to speak with project managers, corporate officials and site workers on the importance of adhering to safety requirements, and on "providing a secure work environment that ensures everyone's safety during demolition operations".
During site visits, inspectors highlighted the crucial need for demolition companies "to be always prepared to handle any emergency, and to devise a plan for immediate response to accidents".
They also ensured that companies were meeting all necessary requirements, from having the correct permits to ensuring that safety measures were sufficient to prevent injury to members of the public, and damage to neighbouring properties.
"The campaign stems from the municipality's determination to implement the best practices in demolition," said the ADCM.
"This is in keeping with its ongoing endeavours to safeguard community members and the health and safety of workers in this field from potential demolition hazards. Moreover, the campaign aims to maintain the safety of the environment and buildings nearby the operational areas."
"This is achieved by adhering to thought-out and systematic procedures that minimise the impacts of demolitions on community members and the environment." 
As well as stressing the need for companies to ensure they have provided their technicians and equipment operators with the necessary training, the ADCM also implored contractors to improve how they deal with construction and demolition waste, and to make sure it is disposed of correctly.
It further urged contractors to carry out noise and dust level monitoring, and to apply the appropriate prevention and reduction methods.
Following the five-day campaign, the municipality "expressed its confidence in the demolition companies and contractors' commitment to the standards and requirements applicable in demolition processes".