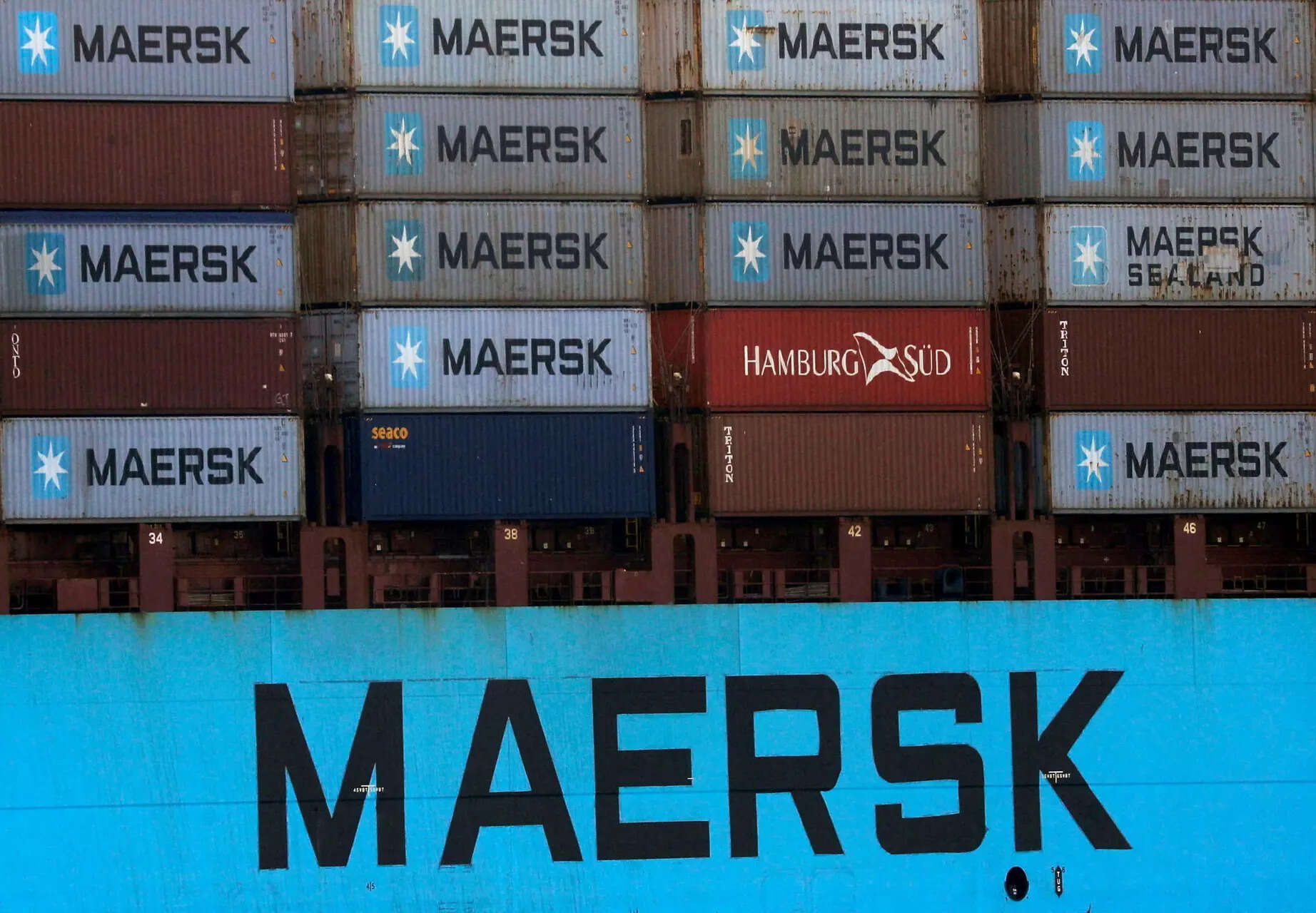 Shipping giant A.P. Moller-Maersk A/S, a bellwether for the world economy, lowered its estimate for global container trade, indicating that weak demand continues to hamper economic activity after years of supply shocks.
Global container trade will probably contract as much as 4% this year, down from Maersk's previous prediction of as much as 2.5%, the Copenhagen-based company said in a statement on Friday, as there are no substantial signs that volumes will recover this year.
"Our case is not for a recession, but it is for a really subdued environment that will continue for the rest of this year," Chief Executive Officer Vincent Clerc said in an interview with Bloomberg TV's Dani Burger and Mark Cudmore. The expectation is "to see some recovery in the market in 2024 and getting back to positive growth territory," he said.
In terms of the global economy, "we're still quite concerned," Clerc said. "There's a lot of moving parts right now, from rate hikes and the risk of recession" as well as "uncertainty also about GDP growth in China and what demand is going to be in China next year."
Over the past year, monetary officials from the Federal Reserve to the European Central Bank have been raising interest rates to tame inflation that had shot up to the fastest pace in decades, and their fast ramp-up of borrowing costs has raised the specter of a harder landing. Still, the base case for major forecasters, including the International Monetary Fund, is for expansion to continue.
Maersk, along with the rest of the shipping industry, is facing an abrupt readjustment after generating record profits in 2021 and 2022 thanks to a spike in demand for consumer goods during the pandemic, coupled with limited vessel supply. Now, global economic growth is losing pace and companies are working through existing inventories instead of transporting new goods from Asia to Europe and the US — a process known as destocking.
Maersk had expected to see the inventory correction to be winding down already, but said it "appears to be prolonged and is now expected to last through year end," adding that "there is no sign of a substantial rebound in volumes in the second half of the year."
The report made the shares seesaw in the Danish capital, falling as much as 3.8% after the open, but then gaining up to 2.4%. As of 12:25 p.m., the shares were down 3.3%.
The company reported second-quarter earnings that beat estimates and raised the lower end of its own 2023 profit forecast range, saying cost reductions softened the impact from the poor economic environment.
Earnings before interest, tax, depreciation and amortization fell to $2.91 billion in the second quarter. That compares with a median estimate of $2.29 billion in a survey of analysts. Maersk said it now sees 2023 underlying Ebitda of $9.5 billion to $11 billion, up from an earlier projection of $8 billion to $11 billion.
What Bloomberg Intelligence Says:
"Maersk's solid 2Q beat and improved full-year guidance are overshadowed by expectations of a prolonged inventory correction, recession risks and weaker volume, which may shape the company's credit story in the coming months. Softer freight rates, which were down 51% in 2Q, coupled with new ship deliveries and lower disposable incomes could lead to deteriorating credit metrics in 2H and 2024."
— Stephane Kovatchev, BI credit analyst

"Our decisive actions on cost containment together with our contract portfolio cushioned some of the effects of this market normalisation," Clerc said in the statement. "Cost focus will continue to play a central role in dealing with a subdued market outlook that we expect to continue until end year."
The CEO also said he sees "supply side risks" unfolding over the next 12 to 18 months as new ships enter the market, and that is for "us to continue mitigating."
Maersk, which transports about one-sixth of the world's containers, said box volumes fell 6.1% in the quarter while freight rates declined 51% from the same period of 2022.
Clerc said he expects the US economy to outperform the European one and that Maersk will therefore invest more in North America. The comments come just days after Fitch Ratings cut its grade on US government debt from AAA to AA+, saying the country's finances will likely deteriorate over the next three years.
"We still have more faith in the underlying GDP development of the US economy over the next couple of years, compared with Europe," the CEO said. "We expect more activity in the US logistics markets over the next years."